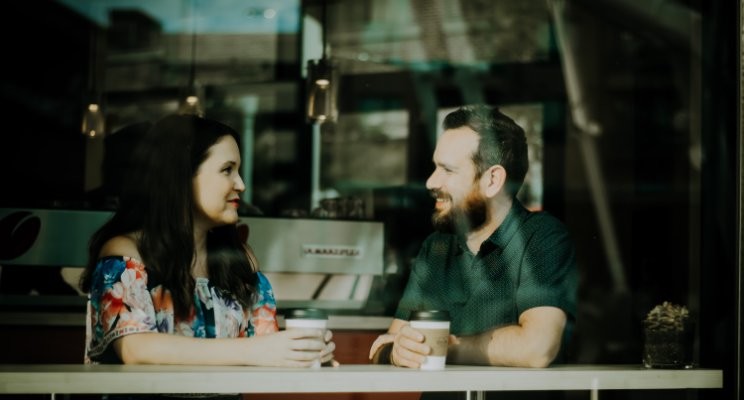 Colleagues having a feedback conversation, Christin Hume
'So much can happen in a single conversation' a participant reflected at the Leading Systemic Dialogue programme I co-led last week. We were at the end of a full and lively two-days. We'd had some engaging dialogue including about some of the big issues of the day.
A conversation can make (or break) a relationship. It can spark a new idea. It can be the catalyst for change. This is particularly true when it comes to a feedback conversation.
The benefits of well-timed and carefully given feedback are huge. It energizes us, engages us and keeps our motivation running high. The damage caused by poorly-given feedback is also enormous. Someone recently told me the story of some critical feedback she'd received in a roughshod way seven years ago. The sting was still palpable, despite all the positive feedback she'd also been given over the years. She was left questioning her abilities as well as her resilience. How can we handle feedback conversations more effectively so that we get the benefits without the stumbling blocks?
Top tips for effective feedback conversations
Recent research by Blueprint for Better Business found that 20% of us avoid giving challenging feedback. Around 25% of us worry that the feedback might not land well. Over half of us in the workplace don't receive any feedback at all.
How do we handle feedback conversations so that they're productive not destructive? I'm delighted to share with you some top tips that I wrote about how to handle these 'big conversations' more skilfully. The article, Six Steps to Taking the Sting Out of Criticism, was recently published in Ethical Corporation. It is part of Blueprint for Better Business's on-going Ten Steps to Fulfilment at Work. Along with co-author Vicky Grinnell-Wright, we explore how you can feel fulfilled at work even when there are tricky things to say.
Handling difficult emotions
Attending to the emotional side of our conversations is key to making them work. Difficult conversations are all about difficult emotions. When we're aware of this, we're better able to prepare effectively and handle what happens. If there's an emotional outburst or a sulky silence, we are more likely to stay in the conversation.
The top tips are inspired, in part, by the pioneering work of John Syer. A sports psychologist whose clients included Tottenham's FA Cup winners of 1981 and 1982, Syer was a pathfinder for mental training in sport. Together with his colleague and co-author Christopher Connolly, they coached many sports teams and business leaders to success. Syer died aged 72 in 2009. In his obituary in The Independent, it says:
'It's hard to imagine, 30 years on, how radical Syer's and Connolly's thinking seemed at the end of the 1970s. Steve Perryman, captain of Tottenham when the two men were first involved with the club, confesses that he had never heard of mental training in sport until they arrived and turned the team from a group of talented individuals into a motivated and communicating force.
'One of Perryman's most illuminating anecdotes about their methods describes how each member of the Spurs squad was asked to place the others in geographical proximity, depending on how able he felt to trust, or share with, them. Suddenly, players were forced to confront and explore their feelings as well as tactics, and a completely new way of playing together developed.'
Building confidence to have that conversation
Syer paved the way for acknowledging that it is normal to have fears. We overcome them by accepting them rather than denying them. Syer's and Connolly's classic book, Sporting Body, Sporting Mind (1984) takes the reader through the art and practice of sporting preparation by including the emotional dimension.
Through using preparation, self-awareness and care for the other, we can build our confidence and deal with anxiety. We can bring our best selves—not just to the football pitch or tennis court—but in the office, factory or boardroom. An effective feedback conversation might even become a life-changing conversation for you or the other person.